Irish great Elk – one of the largest deer that ever lived
The Irish great elk is an extinct species of deer it was one of the largest deer that ever lived. Its range extended across Eurasia, from Ireland to northern Asia and Africa.
The skull and antlers in the main image above are located in the old 11th century dining hall at Cahir Castle county Tipperary Ireland. With antlers spanning 2.7 metres (8.9 ft) this Skull hangs high on one of the gable ends of the hall and seams to fill the room with its presence.
It is some 7000 to 8000 years since these amazing elk walked around the Irish landscape, it is not fully known exactly why or when the became extinct but the most recent specimen of M. giganteus in northern Siberia, dated to approximately 7,700 years ago.
Description
The Irish Elk stood about 2.1 metres (6.9 ft) tall at the shoulders carrying the largest antlers of any known cervid (a maximum of 3.65 m (12.0 ft) from tip to tip and weighing up to 40 kg (88 lb)).
In body size the Irish Elk matched the extant moose subspecies of Alaska (Alces alces gigas) as the largest known deer. The Irish Elk is estimated to have attained a total mass of 540–600 kg (1,190–1,323 lb), with large specimens having weighed 700 kg (1,543 lb) or more, roughly similar to the Alaskan Moose. A significant collection of M. giganteus skeletons can be found at the Natural History Museum in Dublin.
It is understood that the first humans to live in Ireland were the Mesolithic hunter-gatherers, settling in Ireland after 8000 BC so it is possible that the first people to live here lived along side these animals and even hunted them for food and for their very skin and bones.
Finnish paganism and the Elk
European elk
The elk is a common image in many Finnish pagan art works …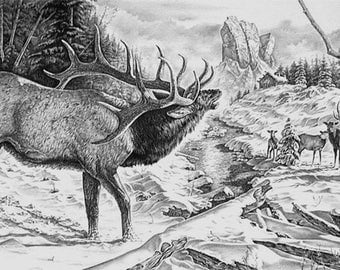 Finnish paganism was the indigenous pagan religion in Finland, Estonia and Karelia prior to Christianisation. It was a polytheistic religion, worshipping a number of different deities. The principal god was the god of thunder and the sky, Ukko; other important gods included Jumi, Ahti, and Tapio.
Shows many similarities with the religious practices of neighbouring cultures, such as Germanic, Norse and Baltic paganism. However, it has some distinct differences due to the Uralic and Finnic culture of the region.
Finnish paganism provided the inspiration for a contemporary pagan movement Suomenusko (Finnish: Finnish faith), which is an attempt to reconstruct the old religion of the Finns.
4 responses